In the News
Events
LUNCH + LEARN | join the conversation
$35
Wednesday, October 15th, 2014  11:45am check in,  12N-1p LUNCH + LEARN
206 W. Bonita Avenue, K2, Claremont
Benefit from this 1 hour personalized roundtable conversation about "All Things Branding", over a catered lunch.
Join other business professionals and creative minds to share brand-related challenges, discuss ever-changing industry trends, and solutions for your brand.
Team-led by industry professionals Janine Perry of pd+a and Robin Lindblom of ThinkTank Designs, in a friendly environment perfect for creative exploration. Format and questions will be tailored around our guests input, to better focus on addressing your specific brand-related questions and ideas.
To RSVP please call 909.626.8083 or email: info@perryadvertising.com
Limited to 20 guests


BRAND MATTERS | discover why
How do you know when it's time to re-brand your business?
Wednesday, June 25, 2014
11:30a–1:30p
workshops designed to empower
+ inspire your business brand
Download our flyer and register early!
Join us for hands-on empowerment workshops, designed to educate small business owners and marketing managers on today's hot topics in the creative, marketing and advertising industries. Be sure to "Like" us  

  on Facebook for workshop details.
Client
Upland salon to feature 30 individual studios
2012 Restaurant Guide – Inland Empire Weekly Cover & Article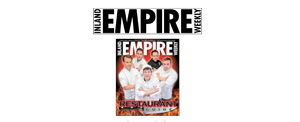 Click the image to download the PDF.
The Unforgettables Foundation selects local ad agency for Gala Marketing
Non-profit organization The Unforgettables Foundation has announced they have selected local full-service agency Perry Design & Advertising in branding and…
Read more…
Terra Vista Shoppers Will Benefit From Free WiFi Access & More
Terra Vista Town Center in Rancho Cucamonga has three exciting announcements for the holiday season…
Read more…
pd+a
Los Angeles Business Journal March 3, 2014
Check us out – page 12 in the Los Angeles Business Journal!
http://bit.ly
/1gNrSxO
Long-term Southern California-based advertising agency, Perry Design & Advertising, recently added a new client to their portfolio
Rancho Cucamonga, Calif., March 30, 2010 /PRNewswire/
Perry Design & Advertising has been contracted by SunWest President Pamela Lawrence, for a comprehensive rebranding and marketing/PR campaign…
Read more…
Local Creative Agency Takes Two Silver ADDY® Awards
Longstanding full-service agency Perry Design & Advertising, located in Rancho Cucamonga, took home two Silver ADDY® Awards during an annual competition held…
Read more…